Gan Yedalim Early Childhood
Camp Keshet
Camp Keshet
Camp Keshet is a fun, seven-week summer day camp for children ages 2 through 5. Camp is organized by Gan Yeladim Director, Suzanne Wycoff. With the assistance of experienced early childhood educators, Camp Keshet provides your child with daily, engaging activities incorporated into exciting weekly themes. For example, your child will enjoy treasure hunts during Adventure Week and create colorful tie-dye projects during Wild and Wacky Week.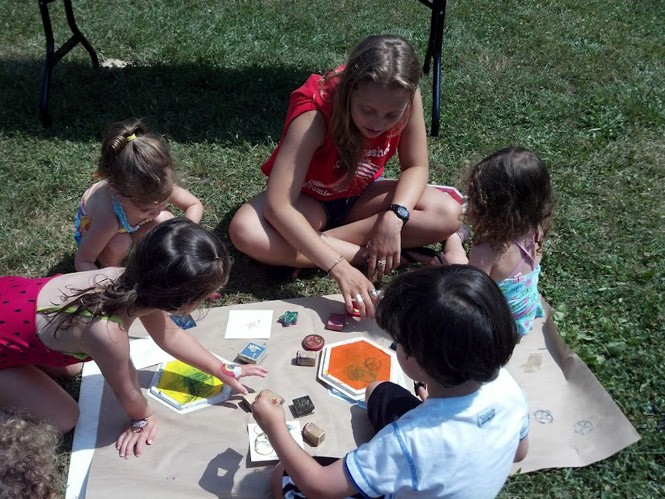 Camp begins June 27 and our summer activities include both indoor and outdoor age-appropriate play and special events. Campers will enjoy special indoor activites in our spacious, air conditioned preschool classrooms such as music, arts and crafts, Israeli culture and Friday Shabbat sing-a-longs. Outdoor activities include fun in our new & exciting outdoor playspace including water play with sprinklers and water tables. In inclement weather, your child will play in our multi-purpose gym and youth lounge.
For children ages 2 to 2 and 1/2, there are two options. A two-day or three-day program that runs from 9:30 am -12:30 pm. For children ages 2 and ½ to 5, there are two options-- a three-day program from 9:30 am -12:30 pm or from 9:30 am -2 pm. Snacks are provided during the day and lunch options are available.
For information about Camp Keshet, please contact Suzanne Wycoff at 732-842-1800 ext.209 or at suzanne.ganyeladim@cbirumson.org.
Fri, June 2 2023
13 Sivan 5783
please Note
If you or a member of your household is experiencing any symptoms of covid or illness we respectfully ask that you refrain from attending in-person events at the synagogue.
Funeral of Lois Green
Friday, June 2 at 10:30am at CBI, In Person and Live-stream. Here is the live-stream link for the sanctuary: https://vimeo.com/event/2608277
Zoom Links To SERVICES
CBI Services and Programming Links
All services and events are In Person and on Zoom. Links to services are available below and programming links are available in event calendar.
Friday Kabbalat Service ~ 5:30pm Zoom Link
Saturday Shabbat Service ~ 9:30 am Zoom Link
Saturday Havdalah Service ~ 5:30 pm Zoom Only Link: Zoom Link HAVDALAH ON BREAK UNTIL AFTER HIGH HOLY DAYS
Thursday Morning Minyan ~ 8:00am Zoom Link
Please note: A service may be live-streamed from the sanctuary instead of using ZOOM. It will be indicated in email blasts and upcoming events.
Here is the live-stream link for the sanctuary: https://vimeo.com/event/2608277
Tuesdays at 10am, Torah Study led by Rabbi Doug Sagal. In - Person and Zoom https://us02web.zoom.us/j/82278345240?pwd=MzBQallMWi9DNmJUbGZQNjZadml4dz09
Fri, June 2 2023 13 Sivan 5783