Library
The Dorothy L. Spiwak Memorial Library, a member of the Association of Jewish Libraries, contains a Judaica collection of some 8,000 titles including books, films, periodicals and musical selections.
The library serves as the epicenter of Jewish learning in the synagogue. Staffed by a part-time librarian, Mikki Grodman, and volunteers, the library is open during religious school hours and during the school year, on Tuesday and Thursday mornings. The collection can be accessed by electronic catalog. Members as well as non-members may borrow from the library.
The collection includes popular fiction and non-fiction including books about science, medicine, art and cooking. The library also houses a large reference section which includes the Encyclopedia Judaica and local Jewish history.
Constantly evolving to support, complement and enrich the adult and juvenile educational programs of the synagogue, the library committee hosts numerous programs throughout the year including domestic and foreign films, book fairs, a Jewish Poetry Program, author talks and trips to museums. The library has a young kids reading corner with a child-friendly table and chairs.
Weekly newspapers include: The New Jersey Jewish News, The New York Jewish Week and the International Jerusalem Post. Monthly periodicals included Jewish Woman, Moment and Jewish Book World.
The library also has wireless capability. Bring your laptop and enjoy the library.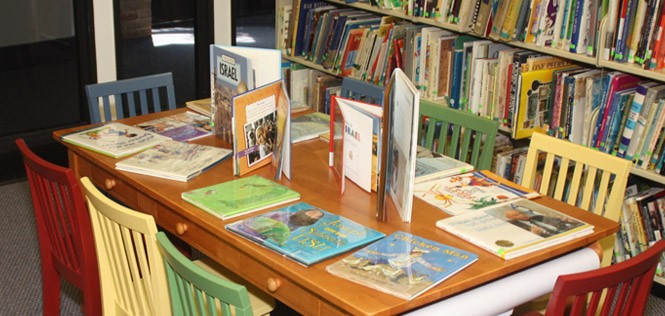 Support the library
There are a number of ways to support the library. Become a patron. Volunteer. Serve on the library committee. Donate to help us acquire additional books and multi-media. We welcome your involvement.
Hope to see you in the library!
Fri, January 21 2022
19 Shevat 5782
LIVESTREAMING
Morning minyan and Shabbat Services will be live streamed from our chapel. Please click here for recent services and to view live stream: https://vimeo.com/event/1331069
There are no in-person services due to the high increase of Covid Cases, for your safety all services will be on Zoom or Live Streamed.
If you are not on our email list you can join us at https://www.facebook.com/CBIRumson
E-Torah
E-Torah from Congregation B'nai Israel
January 21 2022
19 Shevat 5782
Of Commandments and Courage
By now, all of us have heard of the horrific events of last Shabbat in Colleyville, Texas, and the extraordinary courage shown by the rabbi of that small congregation. Rabbi Charlie Cytron-Walker kept the mentally unstable gunman calm until he could not, and then he threw a chair at the terrorist and ushered his congregants to safety.
Rabbi Cytron-Walker is being properly lauded as a hero. But then, the Jewish Forward decided to print a story two days after the event detailing how the rabbi's contract was not renewed a few months ago after 16 years of service, and even printed some allegations, leveled without proof, made against the rabbi by a disgruntled congregant who had left the congregation.
The Ten Commandments, which we read this week, are echoed in the book of Leviticus in chapter 19, where one of the verses reads "Do not go about as a talebearer amongst the people". This is a prohibition of Lashon Hara, gossip and slander-because gossip and slander in our tradition are as deadly as murder. Every time a rabbi leaves a congregation, rumor and innuendo abound, and I assure you such attacks are devastating. That the Jewish Forward would engage in such an act days after this man saved the lives of his parishioners is beyond the pale.
It is tragic that Rabbi Cytron-Walker could survive a deadly attack by a terrorist, only to confront the slanderous gossip of a once great Jewish newspaper.
Shabbat Shalom
Rabbi Doug Sagal
UpcominG Events
All Events
Thursday

,

Jan

January

27

,

2022

A Multi - Headed Dragon: Sex Trafficking in the US presented by Talia Carner


Thursday, Jan 27th

7:30p

to

8:30p




Sex trafficking is not a new phenomenon. What has changed is our understanding of it—and our clear distinction between victims and victimizers. According to the UN Palermo Convention (signed in 2000 by 177 nations) an offender is any person or organization that benefits or is an accomplice to commercial sexual exploitation. Through this prism author Talia Carner will examine the roles of airlines, schools, businesses, hotels, sports arenas, prisons, Internet and banks in this scourge of our society. In her comprehensive speech, Ms. Carner will discuss the economic paradigm of supply and demand, and will present options for the audience to battle the misery of sexual slavery in their own backyard. More about the author, her bio, activism and novels at http://www.TaliaCarner.com Sponsored by Congregation B'nai ISrael and Red Bank Hadassah When: Thursday, January 27, 2022 7:30 PM ET Please register in advance for this meeting: https://us02web.zoom.us/meeting/register/tZckf-yhrzojE9Fp6pSDNNrOWpZdG8kg1SV3 After registering, you will receive a confirmation email containing information about joining the meeting.

Friday

,

Feb

February

4

,

2022

Join us for


Friday, Feb 4th

6:30p

to

7:00p




Wine & Cheese at 6pm with your community and then stay for a short service starting at 6:30 pm.
Fri, January 21 2022 19 Shevat 5782