Congregation B'nai Israel was founded on January 5, 1922 when 35 Jewish men met at Red Bank's Borough Hall to elect a president and officers. At their first official meeting, in their temporary synagogue on top of the Kreidel Store at the corner of Broad and West Front Streets, a decision was made to purchase a building at 10 Riverside Drive for use as a permanent location. On January 23, 1922, the building was purchased. The cost of the property was $12,000. Sigmund Eisner, president of the Sigmund Eisner Company in Red Bank was the largest benefactor, donating $1,000 to the synagogue and a vacant lot on West Front Street.
The Congregation began its operations with a membership of 40 families, a Board of Education, Religious Committee, Financial Committee, House Committee and Building Committee were formed. By 1925, membership reached 100 families.
In November 1932 Congregation B'nai Israel became incorporated and the name was changed to Congregation B'nai Israel of Greater Red Bank. In July 1933, a search committee was appointed to find a permanent rabbi who was to "serve the community at large in the capacity of a spiritual leader, Hebrew teacher and organizer of junior groups." The committee selected Rabbi Arthur Hershon. Rabbi Hershon is fondly remembered for his interfaith work in the local community, delivering Yom Kippur sermons in Yiddish and serving as Chaplain at Fort Monmouth.
During the 1940s, there were over 230 families in the synagogue. The Red Bank Hebrew Cemetery in New Shrewsbury (now Tinton Falls) was acquired and the first community memorial service was conducted at the site. The first Bar Mitzvah class was held and the first of many community Seders was launched.
By the end of 1947 there were close to 150 children in the religious school. A decision was made to sell the Riverside Avenue building and build a new house of worship. A site on Spring Street in Red Bank was proposed but on July 29, 1955, the present location at 171 Ridge Road in Rumson was selected. The cost of the six-acre site was $4,000.
On March 7, 1956, construction of the new building began. On May 16, 1958, on the tenth anniversary of the independent State of Israel, the first service was held in the newly built synagogue. About 380 families were associated with the congregation at that time.
In 1959, after 27 years of dedicated and dynamic spiritual leadership, Rabbi Hershon retired and became Rabbi Emeritus. Rabbi Gilbert Rosenthal and Cantor Sidney Scarff were hired. While Rabbi Rosenthal resigned in March 1964, Cantor Scharff served the congregation until his retirement in 1979.
In June 1964, Rabbi Jack Rosoff, who had served as Jewish Chaplain at Ft. Monmouth became the new spiritual leader of the congregation. In 1966, in the new sanctuary, the synagogue's stained glass windows, created by David Kosakoff were dedicated.
In April 1971, the Congregation voted to approve an addition to the building to create a Youth Wing with a youth lounge, classrooms, a chapel and a gymnasium. In 1972 construction of the new wing was completed and celebrated in conjunction with the Congregation's 50th Anniversary.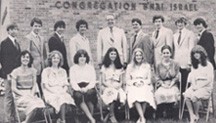 In 1980, Cantor Michael Charnofsky was hired. He served until 1987 when Cantor Marla Barugel, one of the first two female hazzans ordained in Conservative Judaism, was hired. In 1989, the newly formed Congregational Choir chanted on the first night of Rosh Hashanah. During the 1980s Gan Yeladim, the Congregation's Jewish preschool, was opened. Ima and Me and a Pre-k enrichment program also began.
In 1998, after 34 years of outstanding spiritual leadership, Rabbi Rosoff retired and became Rabbi Emeritus. After that time, the congregation was lead by Rabbi Harry Levin, Rabbi Robert E. Fine and Rabbi Andrew Bloom. In 2009, the Bima, the Ark, the sanctuary and the social hall were renovated and a special dedication ceremony took place.
In 2011, shortly after Rabbi Bloom's contract expired, Rabbi Jeff Sultar became interim rabbi for the 2011-2012 year. In 2012 the congregation elected Rabbi Sultar as its spiritual leader until his contract expired.
Rabbi Dov Goldberg was the spiritual leader of Congregation B'nai Israel from July 2015 to June 2019. He originally came to CBI as Cantor & Director of Education in July 2013, from Temple Beth El of Portland, Maine, where he held a similar position, and later became our Rabbi.
Rabbi Douglas Sagal, D.D., became our new rabbi in August 2019 and is making a huge impact at CBI and in our wider community.
More detailed information about the synagogue's history can be found in the book Congregation B'nai Israel of Greater Red Bank, New Jersey (1982), available in the Dorothy Spiwak Memorial Library at Congregation B'nai Israel.
Fri, January 21 2022
19 Shevat 5782
LIVESTREAMING
Morning minyan and Shabbat Services will be live streamed from our chapel. Please click here for recent services and to view live stream: https://vimeo.com/event/1331069
There are no in-person services due to the high increase of Covid Cases, for your safety all services will be on Zoom or Live Streamed.
If you are not on our email list you can join us at https://www.facebook.com/CBIRumson
E-Torah
E-Torah from Congregation B'nai Israel
January 21 2022
19 Shevat 5782
Of Commandments and Courage
By now, all of us have heard of the horrific events of last Shabbat in Colleyville, Texas, and the extraordinary courage shown by the rabbi of that small congregation. Rabbi Charlie Cytron-Walker kept the mentally unstable gunman calm until he could not, and then he threw a chair at the terrorist and ushered his congregants to safety.
Rabbi Cytron-Walker is being properly lauded as a hero. But then, the Jewish Forward decided to print a story two days after the event detailing how the rabbi's contract was not renewed a few months ago after 16 years of service, and even printed some allegations, leveled without proof, made against the rabbi by a disgruntled congregant who had left the congregation.
The Ten Commandments, which we read this week, are echoed in the book of Leviticus in chapter 19, where one of the verses reads "Do not go about as a talebearer amongst the people". This is a prohibition of Lashon Hara, gossip and slander-because gossip and slander in our tradition are as deadly as murder. Every time a rabbi leaves a congregation, rumor and innuendo abound, and I assure you such attacks are devastating. That the Jewish Forward would engage in such an act days after this man saved the lives of his parishioners is beyond the pale.
It is tragic that Rabbi Cytron-Walker could survive a deadly attack by a terrorist, only to confront the slanderous gossip of a once great Jewish newspaper.
Shabbat Shalom
Rabbi Doug Sagal
UpcominG Events
All Events
Thursday

,

Jan

January

27

,

2022

A Multi - Headed Dragon: Sex Trafficking in the US presented by Talia Carner


Thursday, Jan 27th

7:30p

to

8:30p




Sex trafficking is not a new phenomenon. What has changed is our understanding of it—and our clear distinction between victims and victimizers. According to the UN Palermo Convention (signed in 2000 by 177 nations) an offender is any person or organization that benefits or is an accomplice to commercial sexual exploitation. Through this prism author Talia Carner will examine the roles of airlines, schools, businesses, hotels, sports arenas, prisons, Internet and banks in this scourge of our society. In her comprehensive speech, Ms. Carner will discuss the economic paradigm of supply and demand, and will present options for the audience to battle the misery of sexual slavery in their own backyard. More about the author, her bio, activism and novels at http://www.TaliaCarner.com Sponsored by Congregation B'nai ISrael and Red Bank Hadassah When: Thursday, January 27, 2022 7:30 PM ET Please register in advance for this meeting: https://us02web.zoom.us/meeting/register/tZckf-yhrzojE9Fp6pSDNNrOWpZdG8kg1SV3 After registering, you will receive a confirmation email containing information about joining the meeting.

Friday

,

Feb

February

4

,

2022

Join us for


Friday, Feb 4th

6:30p

to

7:00p




Wine & Cheese at 6pm with your community and then stay for a short service starting at 6:30 pm.
Fri, January 21 2022 19 Shevat 5782